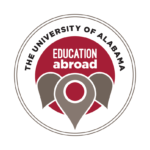 Study abroad showcase
Learn about UA's study abroad options for 2021!
Countdown to live showcase
The Education Abroad office will host a virtual study abroad showcase to highlight study abroad options for 2021. The showcase contains 35 + sessions over 3 days! Feel free to look over the session listed below and add the Zoom link to your calendar to participate in LIVE Zoom presentations from our UA faculty, our partner providers, and campus partners such as Federal Financial Aid and Office of Veterans and Military Affairs. Can't catch the showcase live, we will post the recorded sessions to view at a later time!
Have questions during the showcase?  Feel free to hop on to our Virtual Help Desk from 3:00 pm – 6:30 pm 
What are you waiting for?