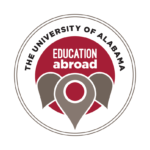 Study abroad showcase
Learn about UA's study abroad options for 2021!
Thank you to everyone who was able to attend the showcase and to all of our presenters!
Couldn't make it to the live showcase? No worries! Each sessions link now contains the recording from the live session and the contact information for the presenter. Check them out and do not hesitate to contact the presenter or our office! 
Have questions during our office hours?  Feel free to hop on to our Virtual Help Desk from 8:00 am – 4:30 pm 
What are you waiting for?