Američankas in Praha
I've been in Prague, Czech Republic for about 6 weeks and coming here was the best decision I've ever made. Compared to other European cities, Prague is easy to get around, not too big or too small but just the perfect size and the money exchange for Americans is way better than the exchange for the Euro. Prague is in a central location of Europe so traveling is pretty easy and affordable. I traveled to Munich, Germany for Oktoberfest in September, and the train ticket was super affordable for a 6 hour train ride to another country. Oktoberfest was unreal. People were so friendly and most people were wearing dirndls and liederhosen. There were carnival games and rides and beer tents everywhere. It was very chaotic in the tents but so much fun.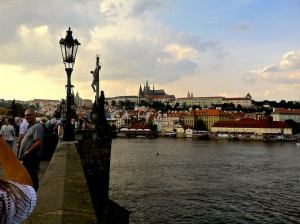 While in Prague, I have visited the Prague Castle, which is the largest ancient castle in the world. The castle has the most beautiful view of the city, where you can see all of Prague. A very main area is Wenceslas Square where you can go shopping at H&M or get the best sausages in Prague. On the Square, there is always street food like sausages, fried cheese, and doner kebabs. For only 60 Korunas which is about $3 you can get a 10 inch sausage. Being on a budget, this is a great food to eat for lunch because its cheap and actually one of the best foods I have eaten while abroad. The Czech food is very heavy, creamy, and delicious. Old Town Square  also has great street food. Trdelniks are the most amazing sugary food you will eat on the street. The stands are all over Prague so no matter where you are in the city there will most likely be a trdelnik stand close by. A trdelnik is dough wrapped around a wooden tube and then spun over the fire until it is cooked and then rolled into sugar and nuts. They are delicious! If you ever come to Prague you can't leave without tasting a trdelnik.